XX9D DXpedition Websites:


CW/RTTY reverse beacon for XX9D


XX9D

QSL Info / XX9D Online Log:

XX9D's ClubLog online log is embedded on their website - you can check your call in their online log here.

They will also be using Clublog OQRS for QSL's ... QSL's will also be available direct, via the bureau and LOTW six months after the DXpedition is completed. For more XX9D QSL info visit the XX9D QSL page here...




XX9D

DXpedition Team and Pilot(s)

The XX9D Macao / Macau operation has put together a very experienced team of DX'ers and have a dedicated page for the on-air operators with background info.



Active DX Forum Threads for

XX9D DXpedition:


Active XX9D thread - QRZ's "DX Zone"

Active XX9D thread - E-Ham's "DXing"

Additional QRZ "DX Zone" threads here

Addtional E-Ham "DXing" threads here



2019 XX9D Macau

DXpedition Operating Frequencies:


They are targeting certain frequencies for operation during the 2019 DXpedition. But, as always, depending on QRM, QRN, etc., this plan is subject to change:

XX9D 2019 Frequency Plan




2019 XX9D

Dates / Operation:



XX9D Dates of operation (as planned) will be February 11 - 26, 2019.

Actual dates of on-the-air activity may vary. We will update here as circumstances warrant.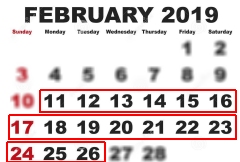 XX9D Macao DXpedition NOTES:

UPDATE: FEB 22 19:04 - With only a few days left to go the XX9D team has now made over 30K QSO's! You can check your call in the XX9D online log (at Clublog) here:

https://clublog.org/logsearch/XX9D



Help Support the XX9D 2019 Macao / Macau DXpedition Here


Help Support the XX9D 2019 Macao / Macau DXpedition Here



This will be an encore of their 2017 trip to Macao but with some changes.

For the 2019 DXpedition, the XX9D team plans on being active 24/7 with at least four stations at all times. They will also be focusing on the lower bands and putting more North American QSO's in the log. But even with this extra effort on the lower frequencies they'll be very busy on the other bands too. They've put together an experienced group of fifteen DX ops to work 160-6 meters on SSB, CW, RTTY and digital modes including FT8. There will be no 60 meter activity.

Team members include : XX9LT, DJ6TF, DJ7TO, DJ9HX, DJ9KH, DL1KWK, DL1RTL, DL2RNS, DL4WK, DL6KVA, DL7JOM, DL4SVA, DL7VEE, DL9GFB, OZ1IKY. Check out their Team Info Page here.


STAY TUNED! More XX9D NEWS and updates coming very soon...

-------------------------------------------------

Back in 2017 Angel Garcia (WA2VUY) was fortunate enough to snag XX9D on 40 meters CW during a very brief long path opening...




Video use by permission of Angel / WA2VUY





If you have comments, questions, QSO reports or info to share regarding this DX station please email me at: wb9lur@CallingDX.com


73 de Randy / WB9LUR



XX9D DXpedition to Macao / Macau updates...

---
-----

Announced DXpeditions to be covered in 2019 include:

3Y0I - Bouvet - Early 2019?
9LY1JM - Sierra Leone - Jan 9-21, 2019
XX9D - Macao - Feb 11-26, 2019
T31EU - Central Kiribati - Feb 16 to March 5, 2019
TT8RR - Chad - Feb 22 to March 7, 2019
7P8 - Lesotho - March 1-10, 2019
CY9C - St. Paul - August, 2019

More will be added as they are announced!

Announced DXpeditions covered in 2018 included

6O6O - Somalia - Jan 3-16, 2018 - QRT
3Y0Z - Bouvet - Jan / Feb, 2018
D68I - Comoros Island - Jan 29-Feb 10, 2018
3D2EU - Rotuma - Feb 23 to March 16, 2018
4B4B - Revillagigedo - March, 2018
XR0YD - Easter Island - March, 2018
XX9B - Macao - March 9-17, 2018
9M0W - Spratly Island - March 2018
3B7A - Agalega & St. Brandon - April, 2018
KH1/KH7Z - Baker Island - June/July, 2018
CY9C - St. Paul Island - August 1-9, 2018
TX5T - Austral Islands - August 15-21, 2018
TO6OK - Mayotte Islands - Sept 20-Oct 6, 2018
VK9XG - Christmas Island - Oct 16-30, 2018
ZL7X - Chatham Island - Oct 16-22, 2018
XX9D - Bouvet - Oct/Nov, 2018
Others may be added as they are announced!
-----

* photo at top of page courtesy of N7OU (sadly, now silent key) see his interview on DX-Coffee here