6O6O DXpedition Websites:

6O6O "Facebook Group Page"

6O6O "QRZ Page"

6O6O "DX-World.net Page"

CW/RTTY reverse beacon for 6O6O
6O6O

QSL Info / Online Log:
QSL via the ARRL LOTW.

Plus they will also be uploading to Clublog for OQRS and the QSL Manager will be M0OXO

If their internet connection holds up they will be posting on LOTW and Clublog in near real time.

None

Active DX Forum Threads for
6O6O DXpedition:

Active 6O6O thread - QRZ's "DX Zone"
Active 6O6O thread - E-Ham's "DXing"
Additional "DX Zone" threads here
6O6O DXpediton NOTES:

Great DXpedition guys! Now QRT...

UPDATE: Thurs Jan 11 2018 19:404 UTC : It's been an intense first week - missing antennas kits, very heavy QRN, unable to fully install some antennas and locals removing them, armed guards to escort them for some of the antenna installs, a malfunctioning power amp and ... well, you get the idea! In spite of everything though - they are doing a heck of a job under very tough conditions!

Check out this pic of Adrian and Kenneth along with the DXpeditionary security force! (click to see full size)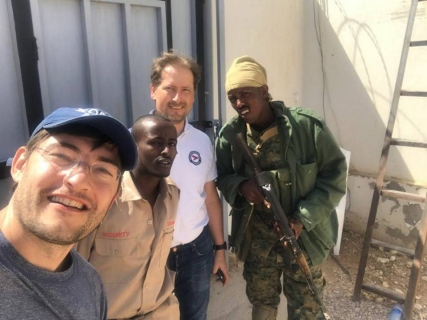 Be safe guys!

Check the links to the left for their Facebook page and other online resources to follow the 6O6O DXpedition!
---
UPDATE: Weds Jan 3 2018 19:24 UTC: 6O6O is now reported to be QRV! ... For live cluster spots and other info see table at left... It was reported that they may have lost an antenna bag and are also experiencing excessive RX noise on some bands.
-----
UPDATE: Weds Jan 3 2018 15:54 UTC : Kenneth (LA7GIA) reports that they have landed in Somalia a few hours ago and are proceeding to get the antennas installed. He also says that they plan to be QRV later this evening. Will post an update when 6O6O is QRV.
------
Ranked as number 54 on Clublog's "most wanted" list - here is a great chance to put Somalia in the log!

This DXpedition to a very dangerous and risky place is being put together by Kenneth, LA7GIA and Adrian, KO8SCA. According to DX-World.net they indicated that while this will be an all band / all mode event - the primary focus will be CW.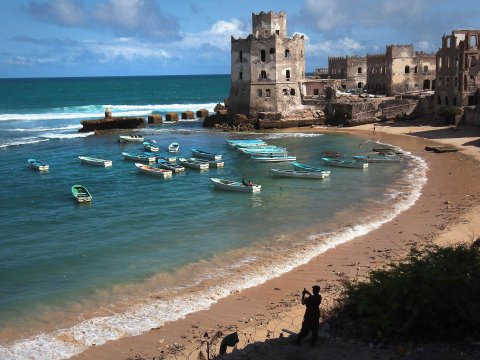 Also from the DX-World.net article they report:

"In conjunction with this trip we organize a fundraiser for Doctors Without Borders in Somalia. All donations received will be earmarked to DWOB in Somalia. Donations are not sought for the ham side of the DXpedition, but we hope everyone will consider a small contribution to the fundraiser. Contributions can be given either by paypal 6o6o@la7gia.com or when doing OQRS through M0OXO website...."

If you have comments, QSO reports or info to share regarding this DX station please email wb9lur@CallingDX.com
---
-----

Announced DXpeditions to be covered in 2018 include

6O6O - Somalia - Jan 3-16, 2018 - QRT
3Y0Z - Bouvet - Jan / Feb, 2018
D68I - Comoros Island - Jan 29-Feb 10, 2018
3D2EU - Rotuma - Feb 23 to March 16, 2018
4B4B - Revillagigedo - March, 2018
XR0YD - Easter Island - March, 2018
XX9B - Macao - March 9-17, 2018
9M0W - Spratly Island - March 2018
3B7A - Agalega & St. Brandon - April, 2018
KH1/KH7Z - Baker Island - June/July, 2018
CY9C - St. Paul Island - August 1-9, 2018
TX5T - Austral Islands - August 15-21, 2018
TO6OK - Mayotte Islands - Sept 20-Oct 6, 2018
VK9XG - Christmas Island - Oct 16-30, 2018
ZL7X - Chatham Island - Oct 16-22, 2018
VP6D - Ducie - Oct/Nov, 2018
Others may be added as they are announced!
-----

* photo at top of page courtesy of N7OU see his interview on DX-Coffee here!