3Y0Z DXpedition Websites:

3Y0Z "Bouvet Souvenirs/Memobrilia"

3Y0Z "QRZ Page"

3Y0Z "DX-World.net Page"
CW/RTTY reverse beacon for 3Y0Z

3G9A/MM Spots - Bouvet team shipboard while en route to / from the island:
Spots on DX Summit for 3G9A/MM
CW/RTTY reverse beacon for 3G9A/MM
MarineTraffic.com (AIS / near shore tracking info) aboard the "Betanzos"
Onboard (open seas) Garmin GPS Tracking
3Y0Z

QSL Info / Online Log:
They will be uploading to Clublog during the 3Y0Z DXpedition - if all goes as planned. QSL Manager is Bob Schenck / N2OO.

LOTW will be used but there are some conditions - please see the "official" 3Y0Z DXpedition QSL page here:

https://www.bouvetdx.org/qsl-information/

Pilots are geographic region specific please read carefully to locate the pilot that corresponds to your region:

Joe – JJ3PRT JA – Asia:
joeaoki@hi-ho.ne.jp

Bryant – KG5HVO Youth Pilot: 3y0zyouthpilot@gmail.com

Tony – K2SG North America: 3y0zpilot@comcast.net

Val – NV9L Chief Pilot:
3y0zpilot@gmail.com

Siso – HK3W South America: hk3w.inf@gmail.com

Johan – ZS2I Africa:
zs2i.johan@gmail.com

Steve – VK6VZ VK, ZL, Oceania: vk6vz.bouvet@gmail.com

Bjorn – ON9CFG Europe: ON9CFG@telenet.be

Chris – PA2CHR EME:
post@pa2chr.nl

Active DX Forum Threads for
3Y0Z DXpedition:

Active 3Y0Z thread - QRZ's "DX Zone"
Active 3Y0Z thread - E-Ham's "DXing"
Additional "DX Zone" threads here
Addtional "DXing" threads here

3Y0Z DXpediton NOTES:

Feb 17, 2018 - Finally ashore in Cape Town with all hands safe!

UPDATE - Saturday Feb 3 21:55 UTC:

3Y0Z DXpedition Aborted


From the 3Y0Z "Official" website:

"FEBRUARY 3 @ 21:30z — During the last 72 hours we continued to experience the high winds, low clouds, fog, and rough seas that have prevented helicopter operations since our arrival at Bouvet. No improvement was predicted in the weather forecast for the next four days. Then, last night an issue developed in one of the ship's engines. This morning the captain of the vessel declared it unsafe to continue with our project and aborted the expedition. We are now on our long voyage back to Punta Arenas. As you might imagine the team is deeply disappointed, but safe. There is already talk about rescheduling the DXpedition."


UPDATE - Wednesday Jan 31 12:04 UTC:
3Y0Z DXpedition arrives at Bouvet ... see photo below.

Supplemental Update Jan 31 23:30 UTC ... We are all seeing some false spots on the clusters and on the RBN ... fakers, pirates, slims - call 'em what you want (I have a few other choice names - not suitable for publishing) but there's no confirmation of the 3Y0Z Dxpedition team even trying to set up camp yet - let alone begin operations...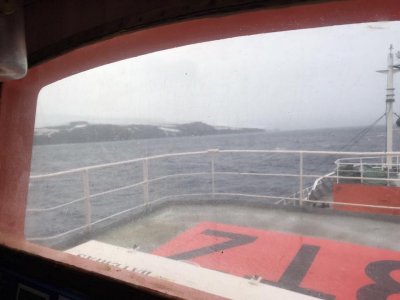 (click to see larger image)

---

Click here to support the 3Y0Z DXpedition

UPDATE - Wednesday Jan 31 05:04 UTC:

Almost there!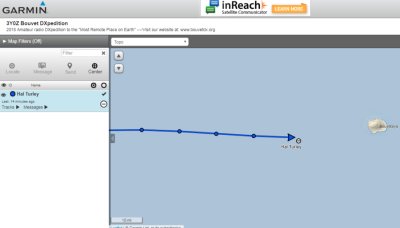 (click to see larger image)

UPDATE - Monday Jan 29 14:52 UTC:

Hal Turley (on board the "Betanzos") reported that very early this morning they were only a little over 400 nautical miles from Bouvet! They've had some rough weather but hopefully it'll clear up for the landing...

---
UPDATE - Friday Jan 19 15:59 UTC:

They ARE Underway and 3G9A/MM is on the air! See the links below and to the left to track their progress while they are on the way to Bouvet Island.

---

UPDATE - Thursday Jan 18 19:35 UTC:

DX-World has just posted a video and photos of the DXpedition team boarding the "Betanzos" ... here's the link:

https://dx-world.net/3y0z-bouvet-2018/


Plus there's more video of the team onboard the ship on their Facebook page here:

https://www.facebook.com/groups/639362206232014/

---
UPDATE - Wednesday Jan 17 15:57 UTC:

Good news! It appears that the 3Y0Z DXpedition ship, the "Betanzos", is no longer moored and is now moving! Not sure if they are currently heading out to open sea just yet though ... You can track the current location (as long as they are in range of the terrestrial AIS) of the "Betanzos" transport vessel here:

MarineTraffic.com ... Betanzos

Also, there is a special shipboard Garmin GPS system that will be updating their progress once they are on the open seas and underway to Bouvet Island. See the Garmin GPS page here:

https://share.garmin.com/bouvet

The latest 3Y0Z DXpedition news can usually be found on the official Bouvet website...here:

http://www.bouvetdx.org/news-and-updates/
---

UPDATE - Tuesday Jan 16 2018 17:52 UTC:

PIRATE ALERT - 3Y0Z DXpedition is NOT active - but many "spots" have been showing up in the clusters. This may be a pirate operation or just DX'ers making bad spots after working a pileup (E31A?) and not verifying the stations call before posting!

---

UPDATE - Tuesday Jan 16 2018 16:40 UTC:

This is a very major DXpedition (with huge expenses) to Clublog's second most wanted DX entity. Pileups will be savage! If all DX'ers followed the DX code - it would be peachy - but it ain't going to happen...

Be prepared and please listen to the 3Y0Z DXpedition ops and honor their instructions. They did not go to all this trouble and expense to exclude certain regions from QSO's. Just the opposite - they will be trying to work as many different stations, on every continent, as they possibly can.

The big guns will dominate early but us 100 watters with wires and verticals will get our shot too.

For me this would be an ATNO and I hope I can get them in the log - good luck to all of you!

I'll update here when there's something noteworthy to add but now I have to go do some antenna work - time is running out! 73 de Randy / WB9LUR

If you have comments, QSO reports or info to share regarding the 3Y0Z DXpedition operations - please email wb9lur@CallingDX.com
---
-----
* photo at top of page courtesy of N7OU see his interview on DX-Coffee here!

-----
Announced DXpeditions to be covered in 2018 include

6O6O - Somalia - Jan 3-16, 2018 - QRT
3Y0Z - Bouvet - Jan / Feb, 2018
D68I - Comoros Island - Jan 29-Feb 10, 2018
3D2EU - Rotuma - Feb 23 to March 16, 2018
4B4B - Revillagigedo - March, 2018
XR0YD - Easter Island - March, 2018
XX9B - Macao - March 9-17, 2018
9M0W - Spratly Island - March 2018
3B7A - Agalega & St. Brandon - April, 2018
KH1/KH7Z - Baker Island - June/July, 2018
CY9C - St. Paul Island - August 1-9, 2018
TX5T - Austral Islands - August 15-21, 2018
TO6OK - Mayotte Islands - Sept 20-Oct 6, 2018
VK9XG - Christmas Island - Oct 16-30, 2018
ZL7X - Chatham Island - Oct 16-22, 2018
VP6D - Ducie - Oct/Nov, 2018
Others may be added as they are announced!
-----
Click here to support the 3Y0Z DXpedition