9LY1JM DXpedition Websites:

Cluster Spots for
9LY1JM

:
CW/RTTY reverse beacon for 9LY1JM

9LY1JM

QSL Info / 9LY1JM Online Log:
9LY1JM will be using the ClubLog online log (Internet connection issues) you can check their online log here.

They will also be using Clublog OQRS for QSL's ... QSL's will also be available direct, via the bureau and LOTW a few months after the DXpedition (and log corrections) are completed. For more 9LY1JM QSL info visit the 9LY1JM QSL page here...
9LY1JM

DXpedition Team and Pilot(s)
The 9LY1JM Sierra Leone operation has put together quite a team of experienced DX'ers (with loads of DXpedition experience) and have a dedicated page for the on-air operators and off island staff.


Active DX Forum Threads for
9LY1JM DXpedition:

Active 9LY1JM thread - QRZ's "DX Zone"
Active 9LY1JM thread - E-Ham's "DXing"
Additional QRZ "DX Zone" threads here
9LY1JM DXpedition NOTES:

FINAL UPDATE Feb 2, 2019 22:30 UTC : 9LY1JM has now uploaded logs to LOTW.

UPDATE Jan 20, 2019: 9LY1JM is now QRT with over fifty thousand QSO's in the log!
--
UPDATE Jan 14, 2019: The 9LY1JM team is quite active on all bands/modes and QSO rates seem very good. They have activated their online Clublog here ... so you can check your call before making any "insurance" QSO's!
---
UPDATE Jan 10, 2019: The 9LY1JM DXpedition - QRV! They are making lot's of QSO's on 80 CW at 04:06 UTC with many locations (including yours truly - here in Florida, USA) reporting very strong signals tonight...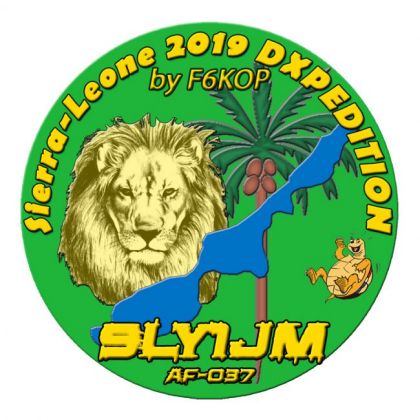 This is a very experienced group of operators with lot's of DXpedition savy. At ninety six on ClubLog's "most wanted" list, the pileups will be big! Many ops will be hoping for an ATNO and / or band fills.

9LY1JM plans to be active on all bands 160 through 10 meters on CW, SSB, RTTY and digital modes. They have worked out an "operational" plan, including special notes for JA ops and FT8 QSO's that you can review here.
For you island hunters this will be IOTA AF-037 located in Madienhead locator grid square IJ38jc.

STAY TUNED! More 9LY1JM NEWS and updates coming very soon...

If you have comments, questions, QSO reports or info to share regarding this DX station please email me at: wb9lur@CallingDX.com

73 de Randy / WB9LUR


9LY1JM DXpedition to Sierra Leone updates...

---
-----

Announced DXpeditions to be covered in 2019 include:

3Y0I - Bouvet - Early 2019?
9LY1JM - Sierra Leone - Jan 9-21, 2019
XX9D - Macao - Feb 11-26, 2019
T31EU - Central Kiribati - Feb 16 to March 5, 2019
TT8RR - Chad - Feb 22 to March 7, 2019
7P8 - Lesotho - March 1-10, 2019
CY9C - St. Paul - August, 2019

More will be added as they are announced!

Announced DXpeditions covered in 2018 included

6O6O - Somalia - Jan 3-16, 2018 - QRT
3Y0Z - Bouvet - Jan / Feb, 2018
D68I - Comoros Island - Jan 29-Feb 10, 2018
3D2EU - Rotuma - Feb 23 to March 16, 2018
4B4B - Revillagigedo - March, 2018
XR0YD - Easter Island - March, 2018
XX9B - Macao - March 9-17, 2018
9M0W - Spratly Island - March 2018
3B7A - Agalega & St. Brandon - April, 2018
KH1/KH7Z - Baker Island - June/July, 2018
CY9C - St. Paul Island - August 1-9, 2018
TX5T - Austral Islands - August 15-21, 2018
TO6OK - Mayotte Islands - Sept 20-Oct 6, 2018
VK9XG - Christmas Island - Oct 16-30, 2018
ZL7X - Chatham Island - Oct 16-22, 2018
9LY1JM - Bouvet - Oct/Nov, 2018
Others may be added as they are announced!
-----

* photo at top of page courtesy of N7OU (sadly, now silent key) see his interview on DX-Coffee here