DX0P DXpedition NOTES:
Update 0525 UTC April 23, 2015 - from the DX0P Team:

"Breaking News:
As of 12:45pm Philippine time April 23, the plane of the Adventist Medical Aviators Services (PAMAS) that flew to Pagasa for medivac to pick up Chito WW6CP and four others just landed in Puerto Princesa, Palawan!

Thank you for all your prayers and support.

73 de AE6WR"
-----
Update 1355 UTC April 22, 2015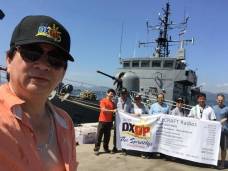 News article headline reads...
"New Spratlys incident delays emergency evacuation of sick ham radio enthusiast from Pag-asa"


Interesting story that reinforces how dangerous this part of the world still is. As mentioned here several times before - given the territorial disputes in the South China Sea, kind of surprised that the Philippine Navy allowed them to post details about their naval vessels location and movements on Facebook while en route to Pagasa.

BTW - the article above says that they ran out of water - not good.
Update - 2240 UTC April 21, 2015
Offical (un-edited) update from AE6WR a Spratly team member:
"Packed up and ready to go!
It's been a while since updates have been posted. It's been challenging to contact the DX0P team from the West Coast. A few hours ago I finally received updates!
As of yesterday, antennas has been taken down, most the equipment packed. Now the wait is on for the ship to take the team back to Puerto Princesa, Palawan on April 22. While waiting for the ship, DX0P will still be up on the air intermittently using homebrewed dipoles cut for mono band operations for 12, 17 & 30... 60 meters. With 40 meter openings after the sunset with Oceania dominating the bands... 80 meter which opens up right around 1830 UTC till 2100UTC, they continue will work the airwaves until the ship comes.
Unofficially, DX0P has made roughly over 5,000 contacts to include RTTY and SSB on 12, 17 & 30 meters as of 2100 UTC today. The Logs? It ill be uploaded as soon as they have full internet access.
It's been a good and challenging expedition to the Spratly's. The team operated for about five days since arriving Pagasa Island on April 16. The DX0P Team is in high spirits and looking forward to returning home after having such a challenging experience. We wish the team safe travel back. Looking forward to sharing their experiences with you all when they return.
73 de AE6WR"
0320 UTC April 21, 2015 - QRV or QRT???
Leo WA6LOS (DX0P team leader) just posted on N0UN's blog (http://n0un.net/dx0p-spratly-on-the-air/) that they are not done yet and will pull the plug early "tomorrow" morning. I don't know when Leo sent that or if he was referring to UTC or local "early morning" time.
0130 UTC April 21, 2015 - DX0P QRT?

Unsure if they are QRT or not. Yesterday (April 20 UTC) was their original end date but with the delayed arrival who knows? At the time I'm writing this - there has been no recent update on their "official" website or on their FaceBook page.

Can't find anything on DX-World.net, their QRZ page or in the DX forums. Even the email bulletins I subscribe to have nothing updated on DX0P.

Seen some grumbling in the forums about this operation and some of it may be justified. Will wait for the full story to unfold before jumping on the bandwagon. Question though - did anyone hear them on CW?

---
Email CallingDX at: wb9lur@CallingDX.com
---
Finally, as I mentioned before - given the territorial disputes in the South China Sea, I was kind of surprised that the Philippine Navy allowed them to post details about their naval vessels location and movements on Facebook while en route to Pagasa. Perhaps we won't hear from them again until they return to port.


11100 UTC April 17, 2015 - DX0P is NOW QRV!

They have landed and are setting up gear with activity having started several hours ago ... now seeing activity on multiple bands ...

UPDATE 06:15 UTC April 15, 2015:
Col (MM0NDX) has posted - "at 0450z Chris VK3FY informed DX-World that the DX0P team had left port after being delayed. They are now underway to Pagasa, Spratly Islands."

Looks like it'll be late on April 16 or maybe even April 17 (UTC) before they arrive.
Just a reminder of how dangerous this part of the world can be - almost exactly 32 years ago to the day - a German DXpedition to the Spratly's came under fire by hostile Vietnamese government forces and two hams were killed.

The full story can be found here:

http://www.dokufunk.org/upload/dx_magazine_spratly.pdf
---
Email CallingDX at: wb9lur@CallingDX.com
---
UPDATE 23:30 UTC April 14, 2015:
"DX0P TEAM TRAVEL DELAYED

The DX0P team's arrival to Pagasa has been delayed indefinitely. The BRP Apolinario Mabini which was scheduled to sail to Spratly Island from Palawan at noon of April 14 was delayed. The vessel's departure was moved to midnight. As of this writing it is 6:26am Philippine time, 2226 UTC, April 15, the ship has not received orders to sail. As it is the vessel of the Philippine Navy, the DX0P team is under the mercy of the their Commanders. The Philippine Navy would also like to ensure the safety of the travel and everyone on board. The ship captain notified Joel WJ1P, the DX0P Assistant Team Lead on who is board the vessel that they may sail anytime soon this morning. Until then, we will all have to wait.

[EDITOR'S Note: This part of the world (including the Spratly Islands) is very much in dispute as to territorial jurisdiction and sovereignty ... in retrospect - kind of surprised that they would have allowed the movement of their Navy vessels to be posted on Facebook.]

A lot of consideration has been done prior to activating DX0P 2015 and delays like this has been one of them. The only way to get to the island is thru transportation provided by the Philippine Navy. We appreciate the patience of all you DXers world-wide who are waiting on the bands for DX0P. The team is looking forward to departing from Palawan and hope to be on the Pagasa Island soon and get on the air.

73 de AE6WR"
UPDATE 0400 UTC April 14, 2015 - From their Facebook page:
"The DX0P DXPedition team is now en route to Pagasa Island in the Spratly Islands on board the Philippine Navy vessel BRP APOLINARIO MABINI. More updates as the team send photos and news bits as internet data signal is available. On Pagasa Island, the chance of the team having internet access is slim to none, so we will be dependent on RF transmissions via Pactor from the DX0P team.

When the team arrives in the island, crew quarters and contest station venues will be set up. Antennas and radio installation will immediately commence. The team will work round the clock to get DX0P on the air in an expeditious manner. See you soon in the bands!

73 de AE6WR"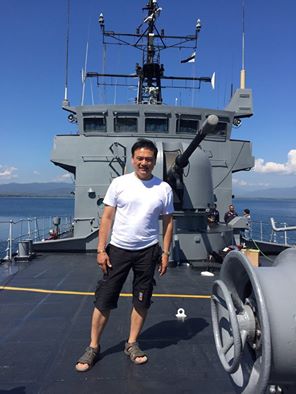 Aboard Philippine Navy vessel en route to DX0P

----
DXpedition Team:
DU1BP, DU2BOQ, DU7RJA, DV1JM, K6BF, K6BG, WA6LOS, WE6DX, WJ1P, WW6CP.
Team leader: Leo / WA6LOS and the associate team leader is Joel / WJ1P.
RIGS: Elecraft (3) K3-100, (1) KX3 ORP radio.
Power amplifiers: Elecraft KPA-500.
Antennas: N6BT 160m-80m, N6BT Bravo co-phased 2 element Bravo, N6BT EVA-220 two element asymmetric 2 element yagi. StepIR CrankIR for QRP. A3S Yagi 10m-20m.
Bands: 160m-10m, may include WARC bands
Modes: SSB, CW, RTTY, JT-65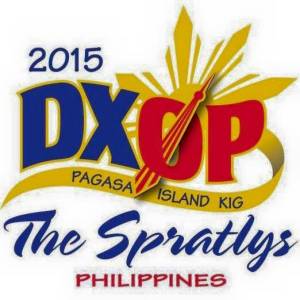 If you have comments, QSO reports or info to share regarding this DX station please email wb9lur@CallingDX.com
---
-----
* photo at top of page courtesy of N7OU see his interview on DX-Coffee here!